Fair Info
Project Info
Judging
Awards Info
Miscellaneous
**********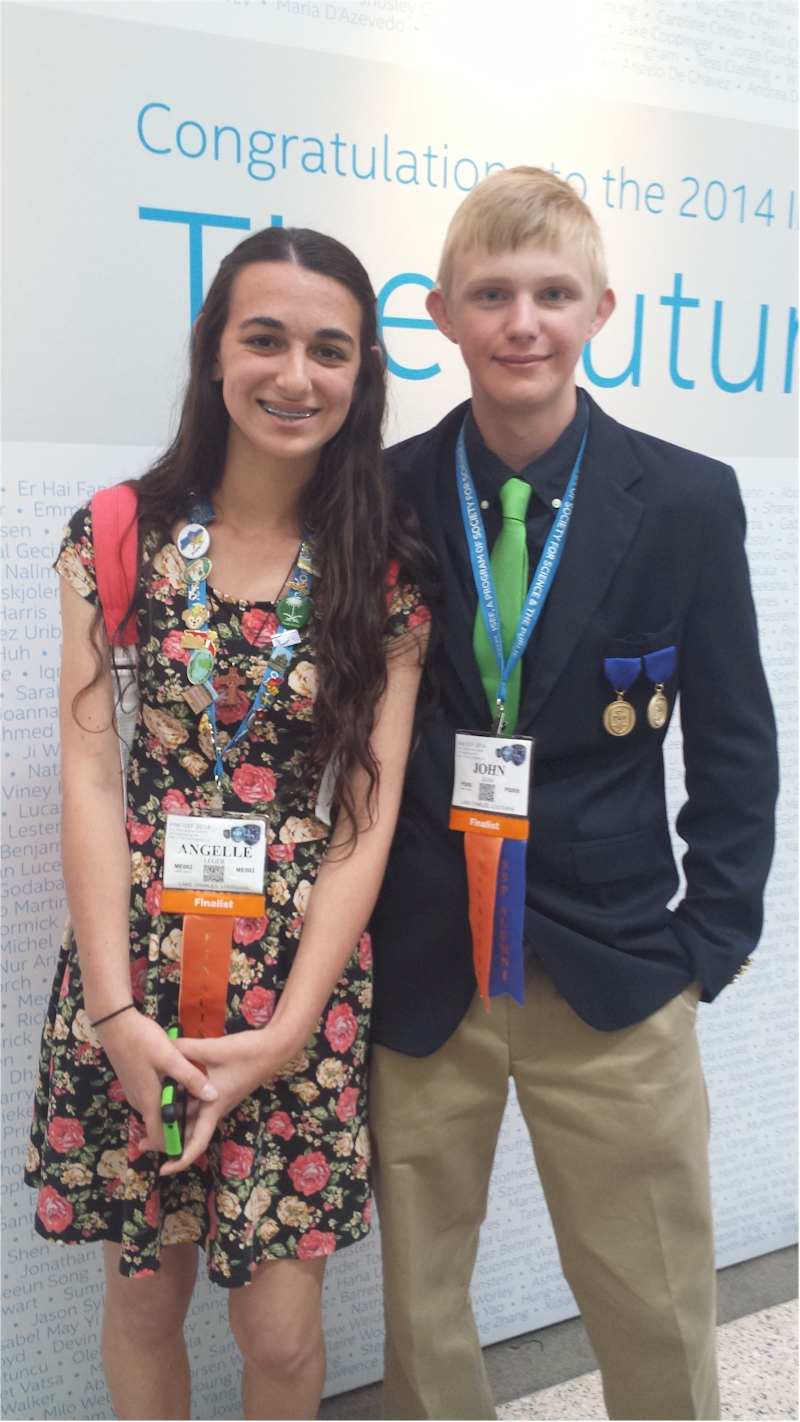 Louisiana Region 5 ISEF 2014 Finalists.

Good luck to Angelle and John this week in Los Angeles!

**********

***Broadcom MASTERS Nominees***

Please Read!!

*Register as early as possible here: REGISTER

*Broadcom MASTERS App for iPhone and Android

*Reminder: Just by entering you could win a free iPod Nano! All entrants receive a free t-shirt, and could become one of 300 semifinalists or 30 finalists in the national competition.

*************

The Louisiana Region V Science and Engineering Fair is an organization dedicated to the promotion of science experimentation in grades 4-12. It is affiliated with the Louisiana Science & Engineering Fair (LSU - Baton Rouge) as well as the Intel International Science & Engineering Fair. We serve over 60 schools, public, private, and home, in a six-parish area - Calcasieu, Cameron, Beauregard, Jefferson Davis, Allen, and Vernon.

There are over 300 elementary, junior, and senior students that enter the regional competition. Junior and Senior place winners from this level progress onto state competition with Senior Division winners having a chance at international competition. The 2013 Region 5 Fair sponsors included Sasol North America, McNeese State University, ConocoPhillips, Entergy, PPG Industries, Jeff Davis Bank & Trust, Sempra Energy, Structure (X), TRU Solutions Inc. (Tom Unsworth), Westlake Chemical, Citgo, Southwest Beverage Company, SinKo, The Screening Room . There are also numerous college, public, and private school educators that volunteer to help make each year a success. "Volunteer" is the scientific word. All positions associated with the Fair are volunteer, even mine. Funds that are generated via sponsors, registration fees, and t-shirt sales are used to purchase such items as paper for mailings, judging materials, ISEF affiliation fees, awards for students, a trip to the Intel International Science Fair for the Overall Winner and his / her adult sponsor, and other miscellaneous operating supplies. (Providing funds are available, the "Best of Senior Division" winning project will also receive a sponsored trip to the ISEF)

The Louisiana Region 5 Science & Engineering Fair has been in existence for 59 years. Recent Directors include Dr. James Batchelor, McNeese State University, Joan Vallee, McNeese State University, and Brady Gentry, Sasol North America. Currently Judy Reeves, St. Margaret School, is Director, with , Dr. Juliana Hinton, McNeese State University, and Renee Unsworth, Hope Christian Academy, serving as Assistant Directors.
This site is meant to serve the teachers, students, and parents of Region 5. It can only be successful with your input. I would like to encourage anyone visiting here to make suggestions as to what they would like to see. (information, links, etc..) Just jump to the Contacts page and drop me an email.
Thank You - Judy Reeves - Director, LR5SEF

Hosting and Web Services Provided by
Encounters Since October 1, 2001